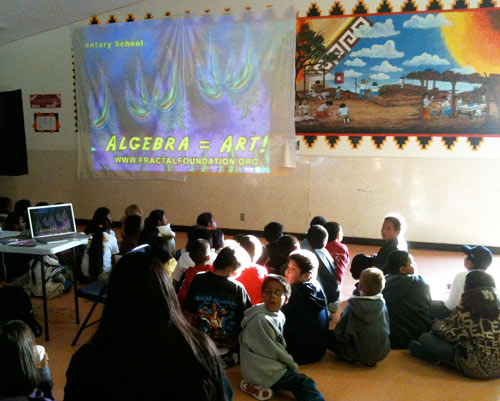 The Fractal Foundation recently visited Mariano Lake Community School - a remote elementary school in the Navajo Nation northeast of Gallup NM - to share the excitement of fractals with students, teachers and parents. Over 100 people attended the Family Science Night to learn about the connections between science, math and art.
The presentation showcased the relationship between the patterns of math and nature, and the audience was equally delighted by the beauty of algebraic fractals like the Mandelbrot Set and the natural fractals all around them, like trees, flowers and canyons.
The landscape around Mariano Lake, NM, is covered with particularly dramatic branching fractals, and the presentation included a Google Earth zoom into the local landscape. One of the themes of our fractal presentation is how the same patterns occur throughout nature in all sorts of different systems; in this case, the canyons of New Mexico appear similar to lightning bolts, tree roots, or blood vessels.
One of the most important factors contributing to student achievement in science and math is the support of the parents. It is for this reason that we at the Fractal Foundation particularly enjoy presenting at family math or science nights, so that the entire family can become engaged and support the students in their education.
Over the past 7 years, the Fractal Foundation has taught fractals to over 30,000 children and 20,000 adults all over New Mexico. We are particularly interested in reaching under-served communities, and are eager to inspire more Native American students with the exciting applications of math and science.