Thanks everyone who attended, participated, and especially volunteered at the Butterfly Effect event! Over 750 people came to the Harwood Art Center in ABQ, and celebrated fractals, creativity, and the power of small changes to make big impacts.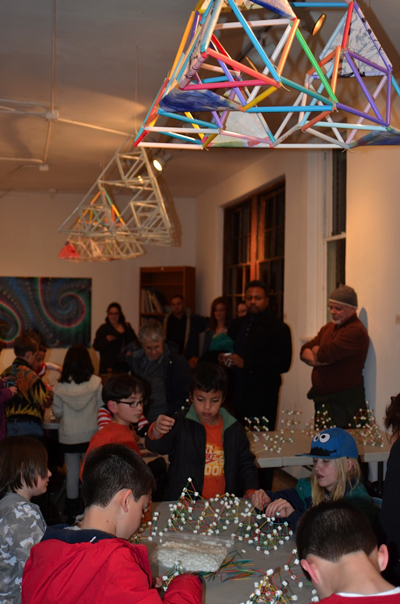 Some highlights included:
"Iterations" a fractal art show of Escuela del Students
Interactive hands-on fractal making activities - learn to make fractals!
Live music by the Swamp Cooler Magnets, including live fractal video projection
This event was jointly produced by the Fractal Foundation, the Harwood Art Center, and Escuela del Sol Montessori School. Best of all - the event was absolutely FREE, thanks to generous support from Albuquerque's Urban Enhancement Trust Fund and Albuquerque Community Foundation.
Why are we calling it the Butterfly Effect?
The fundamental lesson of Chaos Theory is that small changes early on can lead to big differences over time — just as the flapping of a butterfly's wings may help lead to a hurricane many years later. This is a powerful, inspiring and optimistic lesson for us. How can we make a difference in the world, when any one of us is only one seven-billionth of humanity? We are able to because of the interconnectedness of the complex systems we live in. Any one of us does indeed have the power to make a profound impact that ripples outward and touches everything.
This is why are producing The Butterfly Effect - an annual event embodying creative possibility for people of all ages - overlapping the exhibits of established, successful and emerging adult artists with those of Escuela del Sol Elementary students' fractal-inspired artwork. This is why  will provide hands-on experiences making fractals and fractal art for all who attend. This is why we mix science, math, and art, to create unexpected, beautiful, and world-changing ideas. And this is why, on the same night, The Harwood Studio Artists open their collective doors to the public. Come. See where and how art happens.
We are organizing this dynamic and multi-generational event to inspire our audiences, artists, and students alike - offering insights in to the wonders and potentials of creative paths. It takes time, patience, and even a certain amount of faith to know that the things we embrace today will shape the world many years from now; this the inspirational lesson that the butterfly can teach us all.