[Stay tuned to learn when we announce the dates for our next Fractal Training program!]
Would you like to learn how to use the beauty of fractals to inspire interest in learning? Whether you're a teacher looking to excite your students, or someone who would like to volunteer as a fractal ambassador to help us teach the world about fractals, we want to teach you how to teach fractals!
Register now for our next professional development workshop for teachers and ambassadors, the Fractal Institute.
We will be holding a half-day workshops on Saturday, January 5th, 2013, from 1-5PM.
The workshops will take place in Albuquerque at the Balloon Museum (just off Alameda, west of I-25).
These workshops are FREE, and have been developed with support from the Albuquerque Community Foundation, the McCune Charitable Foundation, and the NM Public Education Department.
Participants will receive a DVD containing fractal videos, lessons, slides and activities; and a T-shirt. You will also learn about ongoing opportunities for fractal outreach in the community.
To register for the Fractal Ambassador training, please send an email to "Volunteers (at) FractalFoundation.org", and we'll be glad to send you more information.
Thanks, and we hope to see lots of great teachers and volunteer ambassadors there!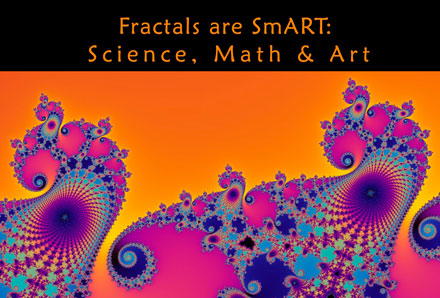 We are incredibly excited to have had such a fantastic public unveiling of 3 new fractal public art installations on January 31'st, when we dedicated these new artworks at Monte Vista Elementary School in Albuquerque, NM.
These large scale installations are 3 of the 8 winning fractals from the Albuquerque Fractal Challenge, and were made by students at Monte Vista Elementary School.
(All eight winners of the Albuquerque Fractal Challenge will be honored during the annual Fractal Trianglethon on April 10th at the Albuquerque Convention Center.)
The unveiling ceremony for these fractals coincided with the unveiling ceremony for a historical plaque commemorating Monte Vista's 80th anniversary; thus this celebration looked back at the past as well as to the future.
What a great celebration of these winning students' creative accomplishments. On more giant step in making Albuquerque the Fractal Capital of the World!
Many thanks to our project sponsors, Albuquerque's Urban Enhancement Trust Fund, and Albuquerque Community Foundation.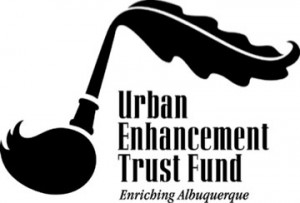 The Fractal Foundation delivered its first educational presentation in the UK, at the Gateway School in Great Missenden, England. About 160 enthusiastic, but extremely well-mannered, 4th and 5th year students enjoyed a beautiful introduction to fractals in science, math and art. Several elementary teachers attended the lecture as well. The response of the English audience was every bit as positive as the American audiences we are accustomed to; people everywhere love fractals!
Only two days after the presentation, Christine Phillips, the teacher who helped coordinate the visit, reported that many of the students were extremely excited by the fractals, and many had download the software. Indeed, they'd already created many digital fractal artworks using the free XaoS program, Altogether they'd also created over 54 fractal triangles, which we look forward to including in the 2011 Fractal Trianglethon.
After this auspicious overseas debut, look for the Fractal Foundation to continue to expand our international outreach programs. Already, we've received interest from teachers in Australia, Canada, and Brazil, and we hope to be able to bring our programs to these countries as well.
Just a side comment, for those who wonder why European students routinely outperform American students in math and science achievement: Note that the English students are still in school at the end of June - a month after US students have left for vacation!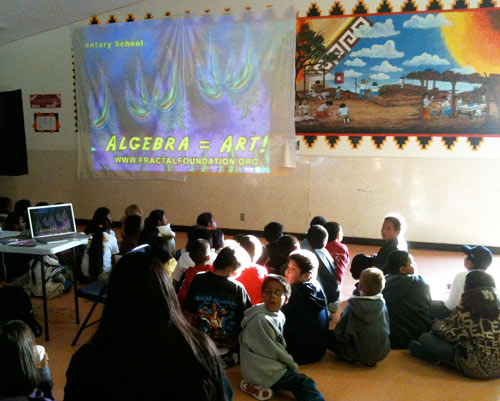 The Fractal Foundation recently visited Mariano Lake Community School - a remote elementary school in the Navajo Nation northeast of Gallup NM - to share the excitement of fractals with students, teachers and parents. Over 100 people attended the Family Science Night to learn about the connections between science, math and art.
The presentation showcased the relationship between the patterns of math and nature, and the audience was equally delighted by the beauty of algebraic fractals like the Mandelbrot Set and the natural fractals all around them, like trees, flowers and canyons.
The landscape around Mariano Lake, NM, is covered with particularly dramatic branching fractals, and the presentation included a Google Earth zoom into the local landscape. One of the themes of our fractal presentation is how the same patterns occur throughout nature in all sorts of different systems; in this case, the canyons of New Mexico appear similar to lightning bolts, tree roots, or blood vessels.
One of the most important factors contributing to student achievement in science and math is the support of the parents. It is for this reason that we at the Fractal Foundation particularly enjoy presenting at family math or science nights, so that the entire family can become engaged and support the students in their education.
Over the past 7 years, the Fractal Foundation has taught fractals to over 30,000 children and 20,000 adults all over New Mexico. We are particularly interested in reaching under-served communities, and are eager to inspire more Native American students with the exciting applications of math and science.
The Fractal Foundation is pleased to announce the newest public art installation of a winning fractal from the Albuquerque Fractal Challenge. An 8′x12′ banner was installed on the west-face of the Harwood Art Center at 7th and Mountain Rd in downtown Albuquerque. Congratulations to Lauren Lopez, the featured artist!

In addition, the students of the affiliated Escuela del Sol were given a fractal presentation inside the building, and then they eagerly made fractal triangles and tetrahedrons.

The Fractal Foundation visited Silver City, NM, for the first time, as part of our ongoing campaign to Leave No Child unfractalled in New Mexico.
Many thanks to Tom Gruzska of the Western New Mexico University Math Department for inviting us down to bring fractals to the students of Silver City. Over the course of three presentations, we taught fractals to undergraduate calculus students, Aldo Leopold High School students, and many elementary school kids as well. Oh yes, lots of parents showed up to for the evening, family fractal night. The kids loved making fractal triangles too, which will be part of the world-record-breaking Fractal Trianglethon.
Over 200 elementary school students from Los Lunas public schools gathered for a special fractal presentation, and learned an exciting hands-on activity. We taught the kids to make their own cutout fractal triangle cards, using just scissors, paper and glue. The kids LOVED it, and we're eager to be sharing this activity with other kids and teachers.
Learn how to make fractal cutouts in the Fractivities section.
Help New Mexico Students create the world's largest fractal triangle - and set a Guinness World Record! We're teaching thousands of children around New Mexico to create the fractal pattern known as the Sierpinski Triangle. Children from 1'st grade and up are excited to participate in this fun, beautiful and educational activity. 
Once the students have made their own triangles, we can combine three of these triangles to form a larger, self-similar version: 
The next step is to combine 3 of these groups of 3 triangles into a bigger version:
Next, we combine 3 of these bigger groups to make a big fractal triangle:
This represents the output of one class, and it took about 30 minutes to make. The next step is to combine the fractals from 3 classes, to make a big triangle of 81 pieces. Then we will triple that to get 243 triangles, etc…
We will be assembling a GIANT fractal triangle, made of the combined output of 243 classes of 27 triangles each. That is 6561 children whose art will be part of this gigantic fractal. The finished piece will be 192 feet on a side. If we can only generate 2143 triangles, we will still set the World Record, and the finished triangle will be 96′ on a side.
We will be assembling it on March 14th, 2010, in the Albuquerque Convention Center, westside ballroom, all day long. Please join us!
We need lots of volunteer help to pull this off! Please contact volunteers (at) fractalfoundation.org to get involved!
Download the lesson plan and learn to do this project yourself in Fractivities.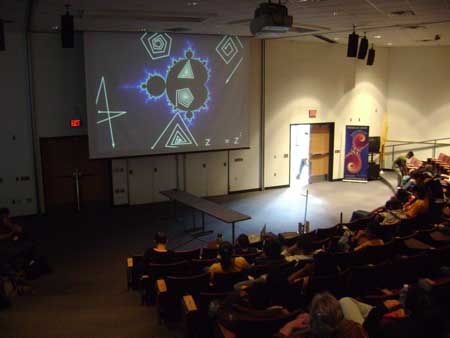 New Mexico MESA (Math, Engineering, Science Achievement) held their Western Region Design Championship in Gallup on January 24th. Middle school and high school students from all over the region were treated to a fractal show as one of the highlights of the event. The show focused especially on engineering applications of fractals, such as branching devices for cooling computer chips and precise fluid mixing, as well as high-performance fractal antennas.
Many thanks to New Mexico MESA for inviting us to be part of such a great event!
Xilinx inc. has awarded a grant to the Fractal Foundation to bring fractal education to the students, teachers and parents at Apache Elementary School in Albuquerque NM.
We are extremely excited about the opportunity to reach ALL the students in the school, from K-5, as well as the teachers and parents. When everyone shares a common language and conceptual framework - i.e. they all recognize the fractal patterns and connections among systems - real progress can be made.
The Xilinx "Educational Ecosystem" program brings a comprehensive approach to transforming education. In addition to funding the Fractal Foundation, Xilinx is also supporting 3 other community nonprofits to serve Apache: Art in the School, Junior Achievement, and Kids Cook.
Thank You Xilinx!!!