Fractal patterns have been observed for the first time at the quantum scale, and the implications - and applications - may be huge.
Mathematicians and physicists have known for some time that the equations that govern the magnetic phase-transition of metals will produce fractal patterns when iterated in a computer. But until now, nobody had ever seen actual fractal patterns at the nanoscale before. Now, in a serendipitous discovery, "fractal puddles" have been observed in the magnetization of semiconductors, and the discovery may lay the foundation for the emerging area of "spintronic" devices.
Read more:
Princeton University announcement
PhysicsWorld
Science Magazine (original peer-reviewed paper, full article requires $)
Incidentally, an equation that describes magnetic phase transitions (an ising model) is shown below, and when iterated in the complex plane, this equation produces beautiful fractal patterns… which include little Mandelbrot Set replicas!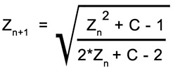 A fascinating article about fractal geometry applied to weather forecasting. An 80 year-old idea - vindicated by modern data collection and analysis - suggests weather may be much simpler than it seems. What does this imply for the accuracy of future weather forecasting? Will we ever be able to outwit the famed Butterfly Effect? We'll see…
Learn more at the New Scientist
Researchers have discovered how the DNA is packed into our cells in such a way that the roughly 2 meters of DNA in each cell doesn't tangle, and is easily accessible when it's needed to make proteins. And the key is: Fractal Geometry!
'…Researchers found that the genome has a highly organized structure. Small pieces of DNA fold into globs, and those globs fold into larger globs and so on. The researchers report that this "globule of globules of globules" is fractal, meaning it is organized in such a way that it has the same pattern no matter how far you zoom in. This fractal shape is "super-dense, but has no knots," '

Read more details at
Science News
.
Our planet is full of fractals. Mountain ranges are a beautiful example of fractals. You can find these kinds of patterns in the Rockies, the Andes, the Alps and the Himalayas.
You can discover countless examples of fractals yourself with the amazing and free
Google Earth
program.
Zoom into the natural fractals on Earth! Download "
NaturalFractals.kmz
" to go on a great fractal expedition, or play around in the program and discover your own natural fractals!

River networks - or watersheds - form fractal canyons, built by the repeated erosion from countless rainstorms over eons.
Coastlines are another common fractal on the Earth. More details emerge the closer you examine a coastline. The whole field of fractal geometry began by asking the question "How long is the coast of Britain?" The answer is that it depends on how closely you measure it, and when you examine the coastline with a finer and finer ruler, its length approaches infinity.
Bodies of water can be fractals too, as we observe in many flat, wet places. The same shapes occur over a wide range of scales, the hallmark of a fractal.
From the Environmental Graffiti blog, comes a surprising discovery of a brain-like structure in a forest in southern Spain. It's a great example of how nature reuses its patterns - because they're simple to make, and effective. See more pictures and read the whole story here.

Hurricane KATRINA from Satellite 
Spirals are everywhere! Here's some impressive video of Hurricane Katrina spiraling onto the Gulf Coast in 2005. Huge and powerful. 
Like all good fractals, spirals occur over a huge range of scales, from tiny seashells to gigantic galaxies. 
(We're looking for really hi-resolution hurricane video to include in the planetarium shows, but it's hard to find. Anyone able to dig some up anywhere?) 
The Fractal Foundation just travelled to Roswell, for a special evening fractal show at the Goddard Planetarium, and then the next day a couple of leactures for
NM MESA
middle school students. MESA (Math, Engineering, Science, Achievement) is a great organization that has invited us all around the state to teach. This was our first trip to the southeast region, and I really enjoyed it, as did the students and teachers.  I the heard feedback from the show at the Goddard Planetarium was so good they want to have us back next year, and make a fractal show a regular event.
One of the great benefits of my job is that I get to travel through some really beautiful landscapes. New Mexico is so full of natural fractals! I thought I'd share a Google Earth snapshot of the landscape west of Roswell/Artesia. Cool!