Students in the Greater Albuquerque Area - please enter the 4th Annual Fractal Challenge!
Simply download the free "Xaos" software, make a beautiful fractal and send it to us. The deadline is April 1'st (no fooling!)
See the full Submission Guidelines.
Winning fractals will be featured in the First Friday Fractal planetarium shows, and may be reproduced on the sides of building as gigantic public artworks!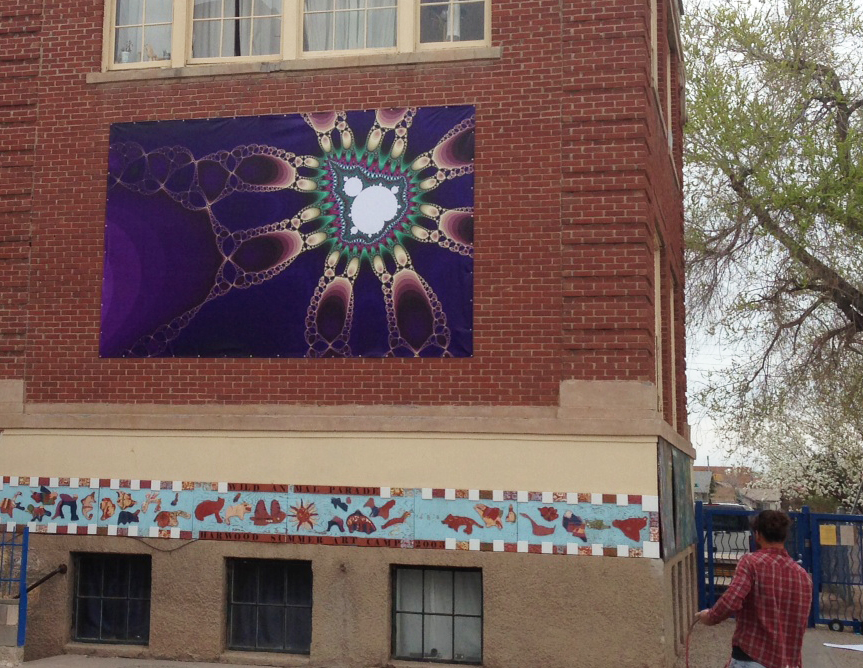 [Stay tuned to learn when we announce the dates for our next Fractal Training program!]
Would you like to learn how to use the beauty of fractals to inspire interest in learning? Whether you're a teacher looking to excite your students, or someone who would like to volunteer as a fractal ambassador to help us teach the world about fractals, we want to teach you how to teach fractals!
Register now for our next professional development workshop for teachers and ambassadors, the Fractal Institute.
We will be holding a half-day workshops on Saturday, January 5th, 2013, from 1-5PM.
The workshops will take place in Albuquerque at the Balloon Museum (just off Alameda, west of I-25).
These workshops are FREE, and have been developed with support from the Albuquerque Community Foundation, the McCune Charitable Foundation, and the NM Public Education Department.
Participants will receive a DVD containing fractal videos, lessons, slides and activities; and a T-shirt. You will also learn about ongoing opportunities for fractal outreach in the community.
To register for the Fractal Ambassador training, please send an email to "Volunteers (at) FractalFoundation.org", and we'll be glad to send you more information.
Thanks, and we hope to see lots of great teachers and volunteer ambassadors there!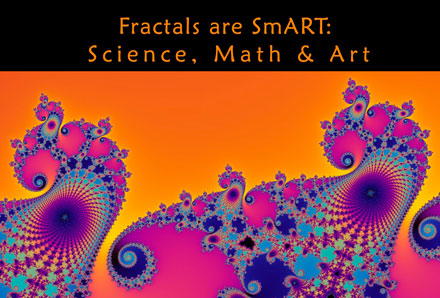 We're building a giant fractal made of 2187 student-made triangles, and we need your help! "The Fractal Trianglethon" will be the world's largest fractal triangle. It's going to be 96 feet wide! We've reserved the Albuquerque Convention Center west complex ballroom for the whole day for this event on March 14th 2010. Please join us in the excitement and help build the giant fractal! Children and adults welcome.
Please email "Volunteers (at) FractalFoundation.org" to sign up for a shift!
Timeline:
Shift 1: 8:30AM-12 noon: We build the giant Fractal!
Shift 2: 12 noon - 3:00 PM:  We open the hall to the public at noon
Shift 3: 3:00 - 6:00 PM:  Celebration and Clean up.
At 3:14 PM, we will officially certify the World Record, and take a group photo with as many kids as we can squeeze into the fractal.
At 3:30 we will move to the atrium and unveil the new student winners of the Albuquerque Fractal Challenge and present their awards.
At 5:00 we start cleaning up the fractal triangles.
The date of the World Record event, March 14th is mathematically significant. It's known as Pi-day, and is celebrated all over the world by math-lovers. Even more appropriately, it is the birthday of Waclaw Sierpinski, the inventor of this fantastic triangle. What better birthday present than to have thousands of children build the world's largest Sierpinski Triangle!
Many thanks to the Albuquerque Convention Center for generously donating the ballroom for this event!
Over 200 elementary school students from Los Lunas public schools gathered for a special fractal presentation, and learned an exciting hands-on activity. We taught the kids to make their own cutout fractal triangle cards, using just scissors, paper and glue. The kids LOVED it, and we're eager to be sharing this activity with other kids and teachers.
Learn how to make fractal cutouts in the Fractivities section.
Hey, I was just googling to try to find what the largest Sierpinski Triangle ever made is (so we can make a bigger one!), and I came across an article in New Mexico Kids Magazine about us. It was printed a year or two ago, and I was really glad to see it's still available on their website. Check it out - it's a very well written story, by the excellent Aileen O'Catherine.
(Just one note: at the bottom of the story it invites teachers to sign up, and the first ten would get in free to see First Friday Fractals. Well, we USED to be able to do that, back when we started the fractal shows a few years ago, but they don't let us give away any seats anymore. Sorry! Old story, old info. The fractal parts are still true though

Help New Mexico Students create the world's largest fractal triangle - and set a Guinness World Record! We're teaching thousands of children around New Mexico to create the fractal pattern known as the Sierpinski Triangle. Children from 1'st grade and up are excited to participate in this fun, beautiful and educational activity. 
Once the students have made their own triangles, we can combine three of these triangles to form a larger, self-similar version: 
The next step is to combine 3 of these groups of 3 triangles into a bigger version:
Next, we combine 3 of these bigger groups to make a big fractal triangle:
This represents the output of one class, and it took about 30 minutes to make. The next step is to combine the fractals from 3 classes, to make a big triangle of 81 pieces. Then we will triple that to get 243 triangles, etc…
We will be assembling a GIANT fractal triangle, made of the combined output of 243 classes of 27 triangles each. That is 6561 children whose art will be part of this gigantic fractal. The finished piece will be 192 feet on a side. If we can only generate 2143 triangles, we will still set the World Record, and the finished triangle will be 96′ on a side.
We will be assembling it on March 14th, 2010, in the Albuquerque Convention Center, westside ballroom, all day long. Please join us!
We need lots of volunteer help to pull this off! Please contact volunteers (at) fractalfoundation.org to get involved!
Download the lesson plan and learn to do this project yourself in Fractivities.
Here's a fun activity you can do to make a fractal cutout with nothing more than a piece of paper…
See the full description in the Fractivities section.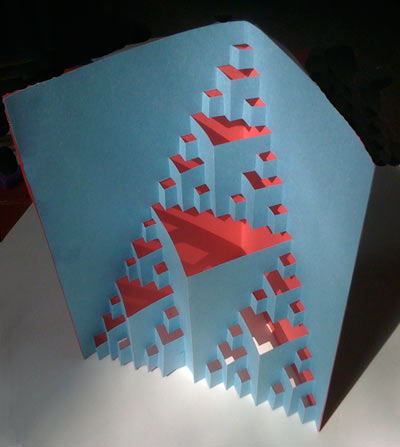 The Fractal Foundation has produced an online fractal math course for use by students and teachers. This project has been made possible by a grant from the State of New Mexico Public Education Department. 
jjj