Thanks everyone who attended, participated, and especially volunteered at the Butterfly Effect event! Over 750 people came to the Harwood Art Center in ABQ, and celebrated fractals, creativity, and the power of small changes to make big impacts.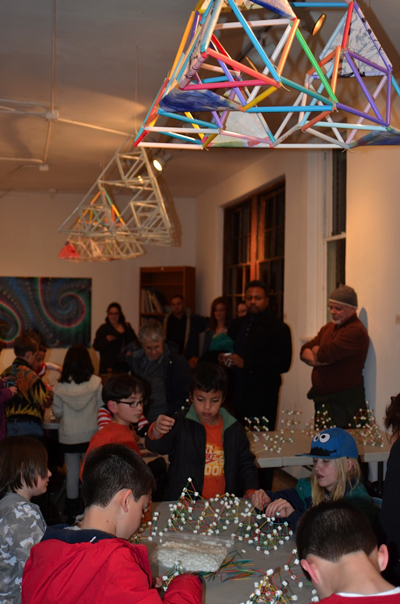 Some highlights included:
"Iterations" a fractal art show of Escuela del Students
Interactive hands-on fractal making activities - learn to make fractals!
Live music by the Swamp Cooler Magnets, including live fractal video projection
This event was jointly produced by the Fractal Foundation, the Harwood Art Center, and Escuela del Sol Montessori School. Best of all - the event was absolutely FREE, thanks to generous support from Albuquerque's Urban Enhancement Trust Fund and Albuquerque Community Foundation.
Why are we calling it the Butterfly Effect?
The fundamental lesson of Chaos Theory is that small changes early on can lead to big differences over time — just as the flapping of a butterfly's wings may help lead to a hurricane many years later. This is a powerful, inspiring and optimistic lesson for us. How can we make a difference in the world, when any one of us is only one seven-billionth of humanity? We are able to because of the interconnectedness of the complex systems we live in. Any one of us does indeed have the power to make a profound impact that ripples outward and touches everything.
This is why are producing The Butterfly Effect - an annual event embodying creative possibility for people of all ages - overlapping the exhibits of established, successful and emerging adult artists with those of Escuela del Sol Elementary students' fractal-inspired artwork. This is why  will provide hands-on experiences making fractals and fractal art for all who attend. This is why we mix science, math, and art, to create unexpected, beautiful, and world-changing ideas. And this is why, on the same night, The Harwood Studio Artists open their collective doors to the public. Come. See where and how art happens.
We are organizing this dynamic and multi-generational event to inspire our audiences, artists, and students alike - offering insights in to the wonders and potentials of creative paths. It takes time, patience, and even a certain amount of faith to know that the things we embrace today will shape the world many years from now; this the inspirational lesson that the butterfly can teach us all.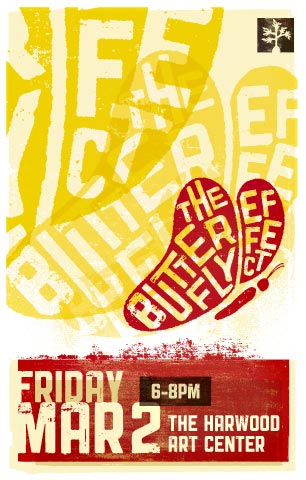 We are delighted and honored to have been invited to participate at both TEDxABQ in New Mexico, and TEDxBITSGoa in India.
See the video of "Fractals that Make Us" at TEDxABQ:


Following this very popular presentation at last year's TEDxABQ event, we're very excited to have a presence again at the upcoming TEDxABQ event on 9/10/11. We'll be hosting a table, sharing the mind-expanding beauty of fractals with the conference attendees. Hope to see you there!
Also, please see the video of "Fractals: the Gateway to Transformation" at TEDxBITSGoa in India, on Feb 6, 2011.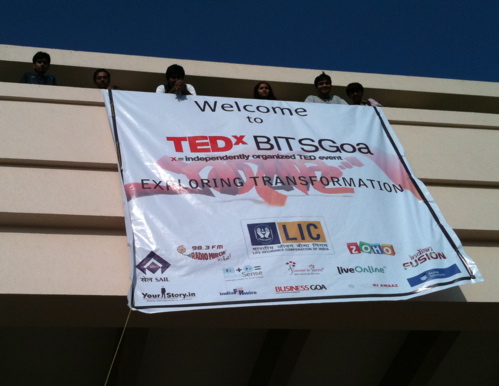 I had the great pleasure and privilege of being invited to share our work with fractals in India in February 2011. The Birla Institute of Technology and Science (BITS) in Goa hosted two exciting conferences, Quark2011 and the prestigious TEDxBITSGoa. I presented at both conferences, each of which were attended by over 1000 people.
Additionally, I gave a hands-on fractal-making workshop to about 75 students, where we explored making fractals with algebra using the free XaoS program, and we also made fractal triangles by hand to include in our Fractal Trianglethon project.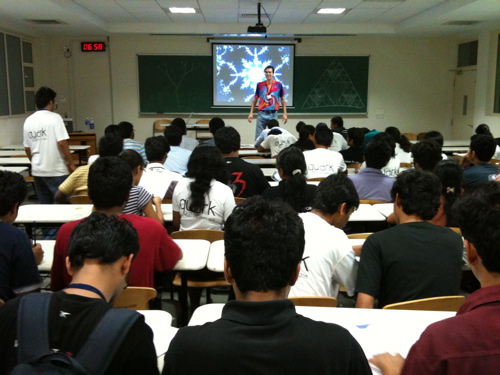 As I continue traveling around the world, I am struck by how everyone, young or old, American, European, Middle Eastern, Australian or Asian… everyone loves fractals!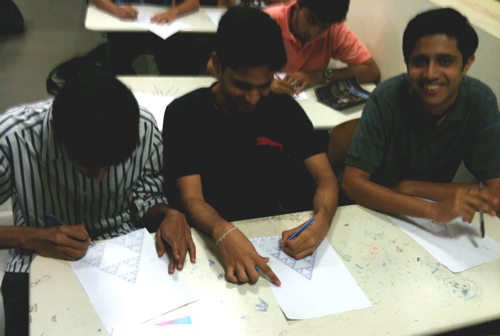 A warm welcome to our many new Indian fractal fans!
We are incredibly excited to have had such a fantastic public unveiling of 3 new fractal public art installations on January 31'st, when we dedicated these new artworks at Monte Vista Elementary School in Albuquerque, NM.
These large scale installations are 3 of the 8 winning fractals from the Albuquerque Fractal Challenge, and were made by students at Monte Vista Elementary School.
(All eight winners of the Albuquerque Fractal Challenge will be honored during the annual Fractal Trianglethon on April 10th at the Albuquerque Convention Center.)
The unveiling ceremony for these fractals coincided with the unveiling ceremony for a historical plaque commemorating Monte Vista's 80th anniversary; thus this celebration looked back at the past as well as to the future.
What a great celebration of these winning students' creative accomplishments. On more giant step in making Albuquerque the Fractal Capital of the World!
Many thanks to our project sponsors, Albuquerque's Urban Enhancement Trust Fund, and Albuquerque Community Foundation.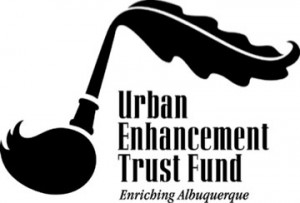 Thanks to all our great Fractal Volunteers for helping teach fractal-making to hundreds of children during the 2010 NM State Fair. We collected over 700 fractal triangles during the event, through the generous contribution of 18 volunteers.
Also on display at the Fair were some of the winning artworks from the Albuquerque Fractal Challenge. These fractal banners, displayed on the outsides of the buildings serves to advertise science, math and art!
Dr. Jonathan Wolfe gave a talk about fractals at TEDxABQ on September 18th at the Hard Rock Hotel & Casino in Albuquerque. The highly regarded 18 minute talk touched on fractals in education, spirituality, and politics.


The processed video will soon be available online. In the meantime, the raw videostream from the event is available at http://www.ustream.tv/recorded/9656309 The fractal talk begins at 15:30.


TEDxABQ is a regional offshoot of the influential global TED talks. Learn more about the event, and buy tickets at TEDxABQ.com