"Fractal Pack 1"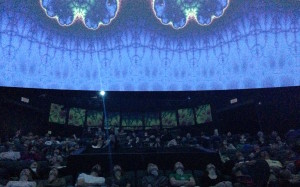 We have created a library of high-resolution fractal animations for display in fulldome planetarium theaters. These pieces include original musical soundtracks, and are available for licensing. Fractal Pack 1 is a collection of eight animations totaling 24 minutes and is available as 4K resolution domemasters.
Through our partners at Spitz Inc we are now licensing "Fractal Pack 1". Please contact Mike Bruno at +1.610.459.5200 x173 for more information.
See the video page for some examples of our fulldome animations. Please also see the "Educator's Guide," which accompanies our shows.
If you are located in Minnesota and want to host fractal shows at your planetarium, contact Jennifer (jen [at] fractalfoundation.org) to coordinate! We may be able to work out a cost share agreement with you rather than your having to front a chunk of money up front for our videos. Email us!
See what people are saying about us on our feedback page and contact us to learn more.
At the planetarium in Albuquerque NM, our award-winning fractal shows have become a runaway success, having sold-out over 300 consecutive shows. We are eager to share this exciting phenomenon with other planetariums and fulldome theaters around the world. Both educational and inspiring, people of all ages love the experience of zooming into fractals!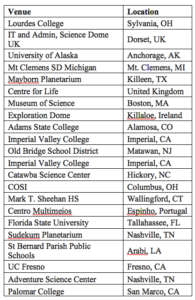 The locations listed here have purchased license to our fractal videos – check them out! Maybe they're showing our videos close to you!