Invite Dr. Jonathan Wolfe of the Fractal Foundation to speak at your next gathering
Dr. Jonathan Wolfe has given interdisciplinary lectures / visual shows about fractals and chaos theory to audiences all over the world for over 10 years. The subject matter is engaging and inspiring, and can be custom tailored for a variety of audiences including business leaders, politicians, urban planners, artists, teachers, or anyone interested in complex systems.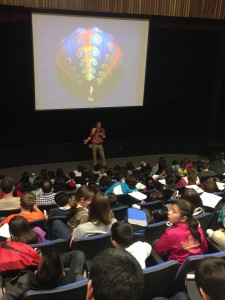 Possible subject topics include:
Unpredictability, the Butterfly Effect, and the Law of Unintended Consequences
Fractal Patterns in Nature
Turbulence, Change and Flow
Fractals in Psychology and Social Systems
Fractal Politics
Ecology and Permaculture – Harnessing the Power of Chaos
Evolution & Feedback – the Key to Life
Fractals and the Evolution of the Sacred
Whatever their background, audiences always leave a fractal presentation excited, inspired and eager to apply what they've learned to their own situations.
A few of the groups that have held fractal shows for their members:
Albuquerque Community Foundation
Albuquerque Public Arts Board
American Planning Association
American Society of Mechanical Engineers
MENSA
New Mexico Math, Science, Engineering Achievement
New Mexico Science Teachers Association
New Mexico Technology Council (formerly NMITSA)
Sandia National Labs
Xeriscape Council of New Mexico
Cost: $500 – $1000 plus travel from Albuquerque NM
Contact Us to schedule a speaking engagement.
Similar presentations are also available at a discount for school audiences. Learn more…