Bring fractals to your school, organization or event!
We teach about fractals in schools, with special groups and at public events with ages ranging from young children to senior citizens! Everyone we interact with shows great enthusiasm and gains an understanding of the interconnections between science, math, art and nature. Suddenly math transforms from something hard, boring and useless into a fun, exciting and beautiful realm to explore. 
See what people are saying about us on our feedback page!
Presentation

A standard presentation runs 45 to 90 minutes, depending on the school's schedule, and can reach a single class or an entire assembly of students.The repeating theme is how the complexity of nature is created through the repetition of simple processes. The presenter introduces fractals, illustrates their applications in the fields of science, technology, engineering, math, architecture and art, among other applications, and wraps up with showing how students can explore fractals themselves. In particular, we highlight how students can use the incredible (and free) fractal software, XaoS to generate their own fractal art.

Hands-on Fractivity

If you want to jump into participating in a hands-on activity, check out our list of fractivities and use the summary table to decide what you want our educator to lead with your group. Typically, schools/organizations provide markers or crayons, scissors and xeroxing.

Fractal Show at the New Mexico Museum of Natural History and Science

Take your students to the New Mexico Natural History Museum for their own fractal show during the school day! Cost is $300 for up to 50 students. After 50 students, cost is $6 per person, for a maximum of 150 viewers (capacity of the planetarium). This cost does not include admission to the museum. Email emma (at) fractalfoundation.org to coordinate!

Twin Cities folks and others who want these videos at a planetarium near you – talk to your planetarium directors and ask them to get our videos! More information here.

Slide Show or Projections of Fractal Images

Project fractal images on a screen or on the wall at an event you are hosting. Everyone is captivated by fractal images, and while they are looking, they are inspired by fractal designs!
Logistics
We bring a laptop for the presentation but can use yours. We also can provide a projector and screen but prefer using yours if you have one. We need a dark room (doesn't need to be pitch black, but it can't have large, uncoverable skylights or windows) and a screen or a blank white wall on which to project. Classrooms, gymnasiums, cafeterias and auditoriums are all possible venues. For larger groups (more than 100 students) a microphone and PA system are desirable.
Cost 
Full prices for our shows are: $200 for the first show and additional same day shows: $100 each, for a maximum of four total in one day.
We are happy to work with you on negotiating lower prices if you can not afford the ones listed above. In addition, the Fractal Foundation has received some grant funding to support outreach at schools that can not afford to pay full price for our outreach. We are happy to discuss what you are able to pay for our outreach!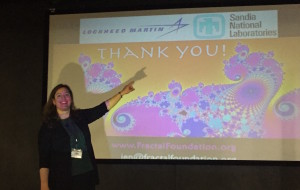 For presentations in New Mexico, please contact Emma (emma [at] fractalfoundation.org) to inquire about the possibilities of bringing fractal outreach to your school.
For presentations in Minnesota or other locations outside of New Mexico, please contact Jennifer (jen [at] fractalfoundation.org).
For outreach

 within driving distance of Albuquerque New Mexico or the Twin Cities, Minnesota
We charge the current federal mileage rates for round-trip mileage to the destination outside of the Albuquerque or Twin Cities metro areas.
The Fractal Foundation loves to travel! We can fly anywhere in the U.S. or world.
        We need our expenses covered, of course. What works best is to get several schools or organizations to share the expenses, so team up to bring us to you!