Explore what fractals you can find around your school or even in your neighborhood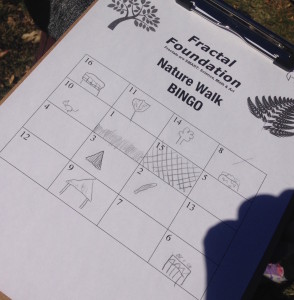 In this activity, a class of 20 students at most (you can make more bingo sheets if you want) walks around outdoors, noting fractal patterns all around them. They can be simply outside the classroom on the school property or in a more natural area.
You can use our curriculum for free or can hire us to come to your school to lead fun, hands-on activities. Check out our education and outreach page!
Ages: K – 12th grades
Materials:
Nature walk bingo worksheets
Clipboards
Pen, pencil or marker
Prizes (optional)
Time:
Approx 45 minutes
DOWNLOAD NATURE WALK BINGO PAGES
See what people are saying about us on our feedback page!
Teachers – if you have comments or suggestions about this or any of our other fractivities, please email us at