Teams of students learn to build a fractal tetrahedron made of toothpicks and mini-marshmallows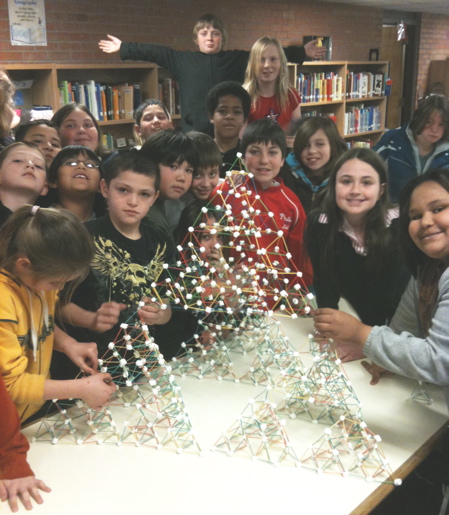 Each student creates his/her own fractal tetrahedron of six toothpicks four mini-marshmallows and then combines four individual tetrahedrons to form a larger tetrahedron. Four of those can be combined to make a bigger tetrahedron and so on.
You can use our curriculum for free or can hire us to come to your school to lead fun, hands-on activities. Check out our education and outreach page!
Ages: 3rd – 12th grades
Materials:
Toothpicks (250 for a class of 20-25 students)
Mini-marshmallows, set out to dry out at lease 24 hours before activity to ensure firmness (1 bag [maybe 200] for class of 20-25 students)
Protractors
Tetrahedron worksheet
Time:
Approx 45 minutes
See what people are saying about this activity on our feedback page!
Teachers – if you have comments or suggestions about this or any of our other fractivities, please email us at