Use fractals to learn about exponents and compare relative sizes of objects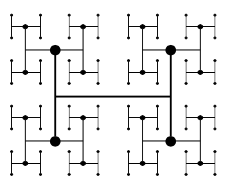 In this exercise, students work with exponents, specifically with the bases of 2, 3, 4 and 10. Fill in tables, graph your results and formulate equations that match your graph. Compare relative scales of natural objects using exponent rules and make some measurements in the classroom to compare relative sizes.
You can use our curriculum for free or can hire us to come to your school to lead fun, hands-on activities. Check out our education and outreach page!
Ages: 4th – 8th grades
Materials:
Ruler, meter stick and 50 m measuring tape
Pencil
Fractals and Exponents worksheet
Calculator (optional)
Time:
Approx 45 minutes
Teachers – if you have comments or suggestions about this or any of our other fractivities, please email us at